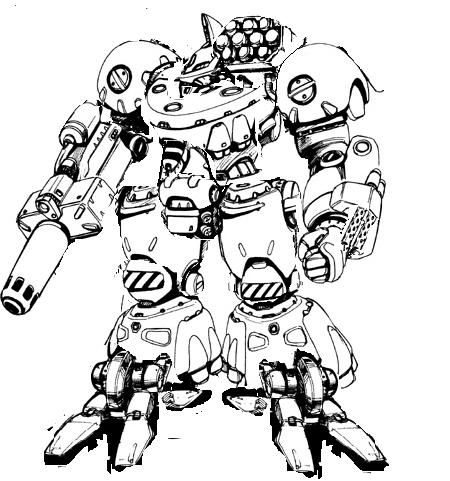 Over View:
The Baldr was the attempt of a small mech factory trying to get their foot in the door In the heavy Market using easy to build and manufactured parts making it cheaper, though with it being known as a light mech and light Combat Vehicle producer they found it hard to get any of the houses to buy their product putting them in the red and Defiance Industries started to move in like a vulture though was saved from their ill fate by FOIS who backed the little factory.

Doing so put their buyers at ease and started to sell the new mechs for the company which was back from the red to the black and doing so allows them to produce two different variants which follows the FOIS new standards which gives their buyers a total of three choices.

Though with great reviews by Federated Suns and Free World League there was however there was always one to raise a ruckus was the Lyran Alliance claiming that the Baldr was nothing more than a copy of one their own mechs already out.

FOIS and the small company denied and went on to sell them and with being it being a top seller among the Mercenaries and smaller government worlds within the periphery and even mining companies that tend to get raided by pirates and with cheap and easy to replace or repair parts making it one of the easiest and cheapest machines to maintain.

Capabilities:
This machine comes with a shoulder mounted Cylinder style Missile Launcher for ease of reloading and replacing as the ammunition is stored within the cylinder which is to help prevent painful feedback from an ammunition explosion which would be channeled out the back and front of the cylinder though doing so destroys the launcher and dealing heavy damage to the mech's from and rear torso.

This was attempted with the machine guns mounted on the back the hand, however do to the machine's hand being used to punch enemy units had caused the ammunition to ether be set off or jam the ammunition was placed in the side torso.

The machine's feet use claw style feet and along with the diamond cut treads of the feet the toes had be designed to give the machine maxim traction allowing it to move at a faster speed a lot safer than other machines which help to prevent skidding on roads, moving over ice, and even helping with moving over ruble.

Though even with these enchantments the pilots should never move faster than their skills or terrain permits as these only help to prevent slides and falls which isn't a one hundred percent grantee to stop the pilot from sliding or falling.
Code: Select all
               BattleMech Technical Readout

Type/Model:    Baldr BLR-1A
Tech:          Inner Sphere / 3025
Config:        Biped BattleMech
Rules:         Level 1, Standard design

Mass:          70 tons
Chassis:       Standard
Power Plant:   280 VOX Fusion
Walking Speed: 43.2 km/h
Maximum Speed: 64.8 km/h
Jump Jets:     None
Jump Capacity: 0 meters
Armor Type:    Standard
Armament:      
  1 Large Laser 
  2 Machine Guns
  1 SRM 6 
  6 Medium Lasers
  1 Small Laser 
Manufacturer:  (Unknown)
  Location:    (Unknown)
Communications System:  (Unknown)
Targeting & Tracking System:  (Unknown)

--------------------------------------------------------
Type/Model:    Baldr BLR-1A
Mass:          70 tons

Equipment:                                 Crits    Mass
Int. Struct.:  107 pts Standard              0      7.00
Engine:        280                  6     16.00
   Walking MP:   4
   Running MP:   6
   Jumping MP:   0
Heat Sinks:     20 Single                    9     10.00
 (Heat Sink Loc: 6 LT, 3 RT)
Gyro:                                        4      3.00
Cockpit, Life Supt., Sensors:                5      3.00
Actuators: L: Sh+UA+LA+H    R: Sh+UA+LA+H   16       .00
Armor Factor:  217 pts Standard              0     14.00

                          Internal    Armor
                          Structure   Value
   Head:                      3          9      
   Center Torso:             22         34      
   Center Torso (Rear):                 10      
   L/R Side Torso:           15      22/22      
   L/R Side Torso (Rear):              8/8      
   L/R Arm:                  11      22/22      
   L/R Leg:                  15      30/30      

Weapons and Equipment    Loc  Heat  Ammo   Crits    Mass
--------------------------------------------------------
1 Large Laser            RA      8           2      5.00
2 Machine Guns           LA      0  100      3      1.50
  (Ammo Locations: 1 LA)
1 SRM 6                  RT      4   15      3      4.00
  (Ammo Locations: 1 RT)
1 Medium Laser           RT(R)   3           1      1.00
2 Medium Lasers          RT      6           2      2.00
1 Medium Laser           LT(R)   3           1      1.00
2 Medium Lasers          LT      6           2      2.00
1 Small Laser            HD      1           1       .50
--------------------------------------------------------
TOTALS:                         31          55     70.00
Crits & Tons Left:                          23       .00

Calculated Factors:
Total Cost:        5,906,849 C-Bills
Battle Value:      1,148
Cost per BV:       5,145.34
Weapon Value:      1,599 / 1,599 (Ratio = 1.39 / 1.39)
Damage Factors:    SRDmg = 27;  MRDmg = 7;  LRDmg = 0
BattleForce2:      MP: 4,  Armor/Structure: 5/5
                   Damage PB/M/L: 5/3/-,  Overheat: 1
                   Class: MH;  Point Value: 11

Code: Select all
               BattleMech Technical Readout

Type/Model:    Baldr BLR-1W
Tech:          Inner Sphere / 3025
Config:        Biped BattleMech
Rules:         Level 1, Standard design

Mass:          70 tons
Chassis:       Standard
Power Plant:   280 VOX Fusion
Walking Speed: 43.2 km/h
Maximum Speed: 64.8 km/h
Jump Jets:     None
Jump Capacity: 0 meters
Armor Type:    Standard
Armament:      
  2 Large Lasers
  1 SRM 4 
  4 Medium Lasers
Manufacturer:  (Unknown)
  Location:    (Unknown)
Communications System:  (Unknown)
Targeting & Tracking System:  (Unknown)

--------------------------------------------------------
Type/Model:    Baldr BLR-1W
Mass:          70 tons

Equipment:                                 Crits    Mass
Int. Struct.:  107 pts Standard              0      7.00
Engine:        280                  6     16.00
   Walking MP:   4
   Running MP:   6
   Jumping MP:   0
Heat Sinks:     22 Single                   11     12.00
 (Heat Sink Loc: 1 HD, 6 LT, 4 RT)
Gyro:                                        4      3.00
Cockpit, Life Supt., Sensors:                5      3.00
Actuators: L: Sh+UA+LA+H    R: Sh+UA+LA+H   16       .00
Armor Factor:  192 pts Standard              0     12.00

                          Internal    Armor
                          Structure   Value
   Head:                      3          9      
   Center Torso:             22         28      
   Center Torso (Rear):                  9      
   L/R Side Torso:           15      22/22      
   L/R Side Torso (Rear):              7/7      
   L/R Arm:                  11      20/20      
   L/R Leg:                  15      24/24      

Weapons and Equipment    Loc  Heat  Ammo   Crits    Mass
--------------------------------------------------------
2 Large Lasers           RA     16           4     10.00
1 SRM 4                  RT      3   25      2      3.00
  (Ammo Locations: 1 RT)
2 Medium Lasers          RT      6           2      2.00
2 Medium Lasers          LT      6           2      2.00
--------------------------------------------------------
TOTALS:                         31          52     70.00
Crits & Tons Left:                          26       .00

Calculated Factors:
Total Cost:        5,842,674 C-Bills
Battle Value:      1,092
Cost per BV:       5,350.43
Weapon Value:      1,499 / 1,499 (Ratio = 1.37 / 1.37)
Damage Factors:    SRDmg = 26;  MRDmg = 10;  LRDmg = 1
BattleForce2:      MP: 4,  Armor/Structure: 5/5
                   Damage PB/M/L: 4/3/-,  Overheat: 2
                   Class: MH;  Point Value: 11

Code: Select all
               BattleMech Technical Readout

Type/Model:    Baldr BLR-1J
Tech:          Inner Sphere / 3025
Config:        Biped BattleMech
Rules:         Level 1, Standard design

Mass:          70 tons
Chassis:       Standard
Power Plant:   280 VOX Fusion
Walking Speed: 43.2 km/h
Maximum Speed: 64.8 km/h
Jump Jets:     4 Standard Jump Jets
Jump Capacity: 120 meters
Armor Type:    Standard
Armament:      
  1 Large Laser 
  2 Machine Guns
  1 SRM 6 
  6 Medium Lasers
Manufacturer:  (Unknown)
  Location:    (Unknown)
Communications System:  (Unknown)
Targeting & Tracking System:  (Unknown)

--------------------------------------------------------
Type/Model:    Baldr BLR-1J
Mass:          70 tons

Equipment:                                 Crits    Mass
Int. Struct.:  107 pts Standard              0      7.00
Engine:        280                  6     16.00
   Walking MP:   4
   Running MP:   6
   Jumping MP:   4
Heat Sinks:     18 Single                    7      8.00
 (Heat Sink Loc: 5 LT, 2 RT)
Gyro:                                        4      3.00
Cockpit, Life Supt., Sensors:                5      3.00
Actuators: L: Sh+UA+LA+H    R: Sh+UA+LA+H   16       .00
Armor Factor:  200 pts Standard              0     12.50

                          Internal    Armor
                          Structure   Value
   Head:                      3          9      
   Center Torso:             22         30      
   Center Torso (Rear):                 11      
   L/R Side Torso:           15      22/22      
   L/R Side Torso (Rear):              7/7      
   L/R Arm:                  11      20/20      
   L/R Leg:                  15      26/26      

Weapons and Equipment    Loc  Heat  Ammo   Crits    Mass
--------------------------------------------------------
1 Large Laser            RA      8           2      5.00
2 Machine Guns           LA      0  100      3      1.50
  (Ammo Locations: 1 LA)
1 SRM 6                  RT      4   15      3      4.00
  (Ammo Locations: 1 RT)
1 Medium Laser           RT(R)   3           1      1.00
2 Medium Lasers          RT      6           2      2.00
1 Medium Laser           LT(R)   3           1      1.00
2 Medium Lasers          LT      6           2      2.00
4 Standard Jump Jets:                        4      4.00
 (Jump Jet Loc: 1 LT, 1 RT, 2 CT)
--------------------------------------------------------
TOTALS:                         30          56     70.00
Crits & Tons Left:                          22       .00

Calculated Factors:
Total Cost:        6,236,224 C-Bills
Battle Value:      1,237
Cost per BV:       5,041.41
Weapon Value:      1,306 / 1,306 (Ratio = 1.06 / 1.06)
Damage Factors:    SRDmg = 24;  MRDmg = 6;  LRDmg = 0
BattleForce2:      MP: 4J,  Armor/Structure: 5/5
                   Damage PB/M/L: 4/3/-,  Overheat: 1
                   Class: MH;  Point Value: 12